(2008/DV/color/40min.)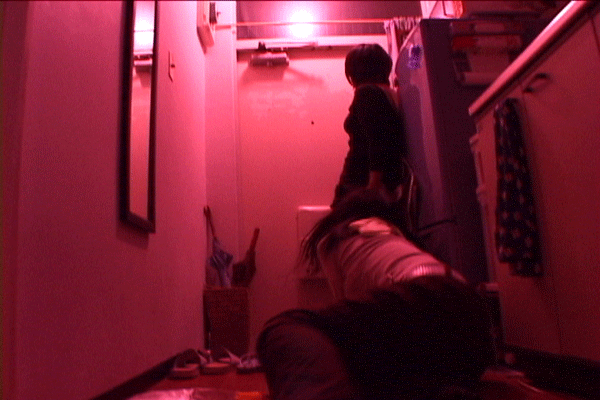 [STORY]
Narumi has been suffering from her ex boyfriend Shinichi's stalking behavior. She got serious nervous break down, and moved into a new place to escape from him. She had spend everyday life like a shut in and alcohol addict.
One day, Aiko, a mystery woman, has suddenly broke into Narumi's room. She caught Narumi and threaten her by violence. With Aiko's unusual "power", she could scan the information on Narumi's brain.
When Aiko had pulled up the information about Shinichi from Narumi's brain, Shinichi showed up in front of them.
Aiko's mysterious power started to awake Narumi's brain. Narumi also started to expand her unknown ability.


[STAFF]
Director, Writer, Editor.........Shozin Fukui
Producer.........Akio Endo, Eitaro Tomori
Cinematographer.........Shu Kageyama
Special Makeup.........Mukunashiyoru
Assistant Director.........Yuuichi Kashima
Assistant Producer.........Toshihide Higashizawa
Planning, Produce, Publicity.........Honekoubou

[CAST]
Makiko Mizote.........as Narumi Arita
Neo Akitsu.........as Aiko Sakamoto
Eitaro Tomori.........as Shinichi Yonezawa

[STATEMENT OF THE DIRECTOR]
Bizarre colors appear on the screen.
Red like a blood, green like an aquarium with algae grew. Spectrum colors come and go in the screen as the story goes by.
You may find yourself awake in the total new world, in ecstasies you've never felt.
The "Noise" is also a big part of this movie. It's overwhelming and extreme, even sometimes drowns out the dialogues as well.
The most impressive noise of this movie is breath sounds of Narumi (main character). It is consistent from beginning to end in this movie. Sometimes it sounds irregularly, and sometimes it sounds rhythmically. You may find that is a breath of this movie itself.